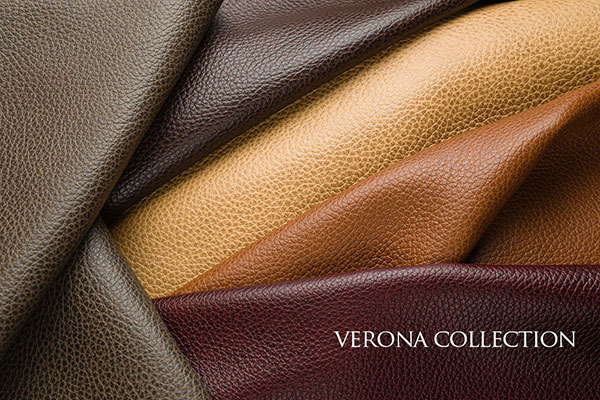 VERONA COLLECTION
thickness: 1.2-1.4MM
average size: 55 sq. ft.
availability: 6 weeks
minimum order: 300 sq.ft.

Verona is a full aniline leather which has been milled extensively to achieve a naturally pebble grain appearance. The best steer hides have been hand selected and the highest quality dyes and oils have been used in its re-tannage to give Verona a very natural look combined with a soft hand. This leather is hand tipped to give it a very dimensional appearance. If ever there was perfect leather needed, Verona should always come to mind.
SPECIFICATIONS
performance characteristics
EN ISO 4045
DETERMINE Ph & Ph (DIFFERENCE FIGURE)
Min 3,2
ISO105/B02
COLOR FASTNESS OF LEATHER TO LIGHT: XENON LAMP
Grey Scale ≥ 3 on specimen
Grey Scale = 3 on Reference Blue Wool #5
EN ISO 15700
COLOR FASTNESS TO WATER SPOTTING
Grey Scale ≥ 3 (No permanent swelling)
ISO 11641
COLOR FASTNESS OF LEATHER TO PERSPIRATION
80 Cycles ≥ 3.5
EN ISO 11640
COLOR FASTNESS OF LEATHER TO RUBBING
500 Cycles Dry ≥ 4
250 Cycles Wet ≥ 3.5
EN ISO 11644
FINISH ADHESION
3 N/cm
EN ISO 3376
MEASURE TENSILE STRENGTH AND % ELONGATION
Tensile Strength ≥ 8 Mpa
% Elongation ≤ 80%
EN ISO 5402
FLEXING ENDURANCE (FLEXOMETER METHOD)
50,000 Cycles (no finish damage cracks)
EN ISO 17233
COLD CRACK RESISTANCE OF FINISH
-15°C (no finish cracks)
EN ISO 3377-1
TEAR STRENGTH (SINGLE EDGE TEAR)
>20 N Minimum
flame resistance
CA TB 117 - 2013

Complies
NFPA - 260 CIGARETTE IGNITION

Class 1
FMVSS 302

TBA